Indoor Brabant expands programme: Two arenas in 2015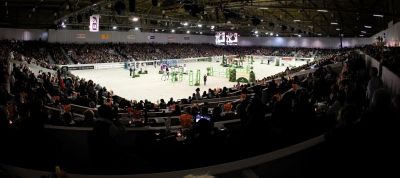 The international top event Indoor Brabant, which will be held from 12 til 15 March 2015, will expand its programme extensively. The programme will have more variation and a second arena will be used.

Two arenas
Due to the expansion of the programme the organisation decided to add a second arena. The international competitions will be held in the traditional main arena, the Brabanthal and the new national programme will be staged in the new arena, the Peelhal.

New: stallions in sport
On Thursday aftenoon and evening the breeding industry will be the main feature. Approved stallions will be competing in international show jumping and dressage competitions in both arenas. They will start with a warm-up class and afterwards they will come back for the prizes. It offers the stallions and stallion keepers a perfect opportunity to present themselves to the general public. The competitions will be staged for five- and six-year-olds and seven- and eight-year-olds.

National

During the other three days it will be mainly the national riders who will compete in the new Peelhal. Indoor Brabant offers a varied programme with many different disciplines and on different levels. Show jumping and dressage competitions on Z/ZZ level, para-dressage and the FNRS Jumping Competition. Young Riders and Juniors will present themselves in a jumping class and carrousl groups will compete in the FNRS Carrousel Cup.

Brabanthal
The international top jumping and dressage riders will compete in the main arena, the Brabanthal. Highlights will be the Reem Acra FEI World Cup Dressage on Friday morning (Grand Prix) and Saturday afternoon (Kür to Music), the spectacular Indoor Derby (jumping) and the exciting Rolex Grand Prix (jumping) on Sunday afternoon.