Indoor Derby goes to Romain Duguet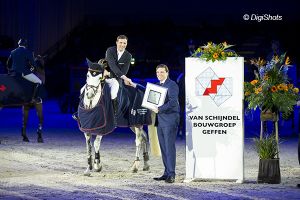 On Saturday evening Romain Duguet won the spectacular Indoor Derby, the Van Schijndel Bouwgroep Prize, with his nine-year-old mare Cacharel. He and the fast and agile Coltaire Z daughter rushed to the finish in 83.85 seconds. The 35-year-old rider was born in France, but rides for Switzerland since January 2013. He lives in, Gumligen, Switzerland with his wife Christina and two children ant they run their own stable, the Ecurie Duguet.
Wout-Jan van der Schans finished runner-up with the 12-year-old KWPN gelding Zorro. The combination crossed the finish line just over a second slower than the winner in 84.92. Third place went to his compatriot Maikel van der Vleuten with Kisby.
Full results