EUAEL International Equine Law Congress 2019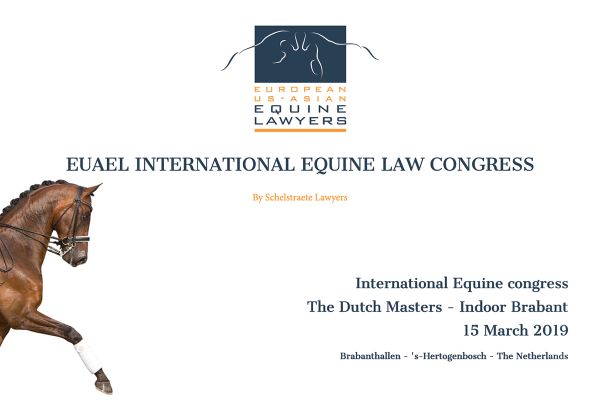 Schelstraete Advocaten, founder of the Alliantie European US Asian Equine Lawyers will organise the first EUAEL International Equine Law Congress on Friday 15 March 2019 during The Dutch Masters, which will be held from 14 until 17 March. The theme will be "Does your horse survive the pre purchase exam?"
Interesting topics such as the international trade of horses and the purchase examination will be addressed as well as non-confirmity, consumer sales and international litigation. In addititon doping and VAT in the equestrian industry are part of the subjects.
The Dutch Masters offers the perfect setting to speak about these topics. Are you interested? Tickets for the congres scan be ordered here:
https://www.internationalequinelawcongress.com/
.
European US Asian Equine Lawyers will be present in their hospitality lounge at the Dutch Masteres from 14 until 17 March. If you are present at The Dutch Masters please feel free to visit us.