Emmelie Scholtens wins WC dressage qualifier Mechelen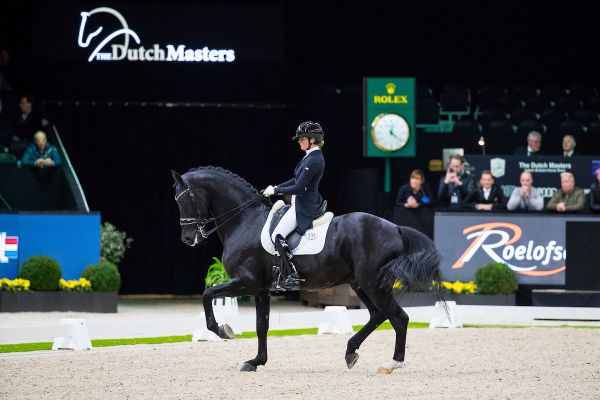 Emmelie Scholtens has won the FEI Dressage World Cup qualifier in Mechelen with her 11-year-old stallion Desperado N.O.P. Emmelie scored a personal record in both the Grand Prix (76.478%) on Saturday and the Freestyle (85.075) on Sunday afternoon. "I am very happy with my personal record."

Emmelie Scholtens delivered a top performance in the Nekkerhal in Mechelen with her beautiful black KWPN approved stallion. They won the Freestyle with an unbeatable score. The faultless test showed many highlights with 10s for the extended trot.
"I have a real wow feeling," was Scholtens' first reaction. "This is my new personal record, so I am very happy. Yesterday he was a bit tense in canter so I focussed on that today."
Emmelie earned 20 points with her victory in Mechelen on her way to the final in Las Vegas. With the 13 points earned in Lyon she is on a total of 33 points in the standings in 13th place.

The Dutch Masters
The Dutch Masters is the last event for the dressage riders to earn points for the final in Las Vegas. All Dutch top riders are expected in the Brabanthallen in 's-Hertogenbosch. The FEI Dressage World CupTM Grand Prix presented by RS2 Dressage will be held on Thursday evening (start 5 pm) and the Freestyle is staged on Saturday afternoon (2.30 pm).