Daniel Deusser wins the Rolex Grand Prix of Aachen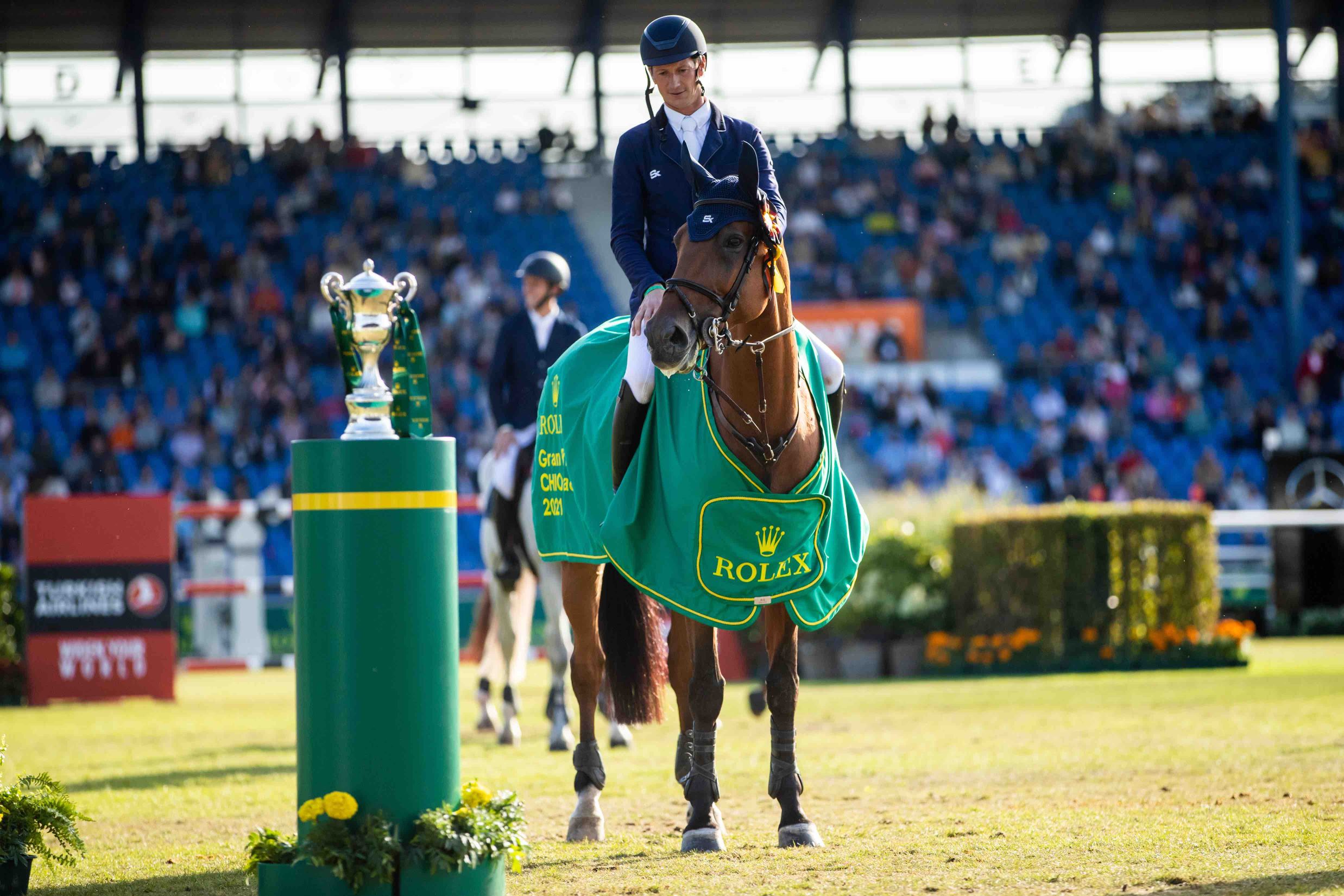 The world's most distinguished show jumpers and their equine partners contested the highlight class of 2021's edition of CHIO Aachen: the Rolex Grand Prix. The third Major of 2021's Rolex Grand Slam of Show Jumping, the 1m60 test, created by leading course designer, Frank Rothenberger, comprised 40 starters from 15 nations. Amongst them was current world number one, Daniel Deusser, current world number three and Rolex Testimonee, Martin Fuchs, winner of the 2021 CP 'International', presented by Rolex and fellow Testimonee, Steve Guerdat, reigning Olympic Individual champion, Ben Maher, plus another 11 of the world's current top 30-ranked riders.
The tense action played out in front of approximately 19,000 knowledgeable show jumping fans in CHIO Aachen's Hauptstadion, a truly iconic stadium which also hosted the sport's World Championships in 2006 and European Championships in 2015. The format was simple: following the Rolex Grand Prix's first round, the best 18 riders would qualify for Round 2, with a jump-off triggered should any riders' combined scores be tied. In the case of a jump-off, the rider with the fewest penalties and fastest time would be crowned champion.
Clear rounds combined with fast times saw three of the sport's greatest riders comfortably progress to the second round: Great Britain's Ben Maher and his 12-year-old megastar gelding, Explosion W; the first and only rider to win the Rolex Grand Slam, Scott Brash and his 12-year-old gelding, Hello Jefferson; and Steve Guerdat and his 12-year-old gelding, Venard de Cerisy. However, it was Mexico's Patricio Pasquel, who topped the leader board at the end of the first round, after he and his 14-year-old gelding, Babel, finished over two and a half seconds ahead of next fastest rider, America's rising talent, Brian Moggre.
Other riders of note to make the cut of 18, included the sport's current highest-ranked rider, Daniel "Double D" Deusser of Germany, Frenchman Kevin Staut, Martin Fuchs from Switzerland, winner of the Rolex Grand Slam Major at CHIO Aachen in 2017, Belgium's Gregory Wathelet, and the next generation of show jumping talent, 22-year-old American rider, Lucy Deslauriers and 23-year-old Sanne Thijssen from The Netherlands.
Consisting of 15 fences, and over a very slightly shorter course than the first, home favourite Deusser soon assumed control of the second round, the first of the 18 riders to go double clear. He was followed by Belgian, Jérôme Guery, confirming a jump-off would decide who would become the new Rolex Grand Slam Live Contender, after the last Major winner, Steve Guerdat, failed to record a clear round. Guery's Tokyo 2020 Team bronze medal-winning teammate, Gregory Wathelet started a procession of double clears, with Laura Kraut from the USA, Scott Brash, Ben Maher and Brian Moggre all booking their places in the final showdown, thereby making it a mouth-watering seven-way jump-off.
First to go in the jump-off was Daniel Deusser and his 11-year-old mare, Killer Queen, meticulously navigating the nine-fence course and recording the first double clear. Deusser held on to top spot after Gregory Wathelet finished clear but was over a second off his pace, while Scott Brash, Ben Maher, Laura Kraut and Jérôme Guery all recorded faults. Last to go, Brian Moggre and his 15-year-old stallion, Balou du Reventon, were Deusser's last remaining threat; however, despite an impressive clear round, the 20-year-old from Texas crossed the line 0.31s off Deusser's time, which meant a new Rolex Grand Slam of Show Jumping Live Contender was crowned.
On his first Rolex Grand Slam of Show Jumping Major victory, Deusser, commented: "The Rolex Grand Slam is part of equestrian history. So far, I haven't been in this position of winning one of these four Major Grands Prix, but I'm now looking forward to trying my best at the next three stages."
On his partner, Balou du Reventon, runner-up, Brian Moggre, commented: "I really think our personality types are similar. I didn't really give myself a chance to not get along with him, so I'm glad he liked me. We have just gone step by step, and he wants this just as much as I do. He's a really competitive horse and I find myself a bit of a competitive rider, so we mesh well and I'm very thankful for him."
More information:
www.rolexgrandslam.com
/
www.chioaachen.de
(Photo: Rolex Grand Slam / Ashley Neuhof)